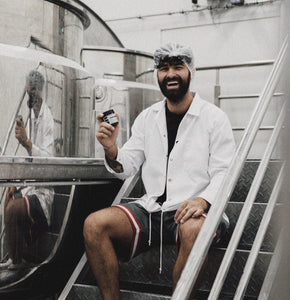 The Micky Day Story
Micky Day founder Hohepa Rutene, or "Hops" as he's known to his mates, brings a wealth of knowledge to his range of mens hair products. As a professional barber, he's spent many years helping Kiwi men of all ages look and feel good. 
Hops started out cutting his friends' hair at boarding school. When an apprenticeship came up at his hairdresser in Greytown, he leapt at the opportunity, honing his skills before moving to Wellington to work at barbershop Boar & Blade. An opportunity came up to work from their Ponsonby shop, so he packed his bags again and relocated to Auckland. When his good mate and owner of Boar & Blade decided to sell the business, Hops bought both the Wellington and Ponsonby shops off him and the rest is history. He opened a third barbershop the following year. 
While working as a barber, Hops encountered many male hair products that didn't quite do the trick. He felt there was a gap in the market for a high-end male grooming range that was designed by industry professionals. With insight into what made his clients look great, Hops set to work on a new venture: creating a range of mens hair products that he'd actually use himself. After doing some thorough research, he found a manufacturer in Albany to help produce Micky Day. 
Hops loves the social aspect of working as a barber; for him it's really just a way to hang out with mates and have a good yarn. The products he's created are for Kiwi guys just like him who want to look good and feel good – without too much fuss. 
The Process
---
Micky Day's mens hair products are all designed, tested and handmade by professionals in New Zealand. Hops is all about supporting local, so the process is designed to create the highest-quality products using New Zealand businesses and manufacturers. 
Make
All products are handmade by a GMP manufacturer in Albany on Auckland's North Shore.
Fill
Micky Day products are poured steaming hot and then left to cool before being lit.
Package
Every product is labelled and boxed by hand, with the batch number stamped on the bottom of every jar.
10% of profits go to men's mental health.